Since March 2020 we have tracked and commented on how investors have responded during market volatility with two detailed analyses on impairment elections: Impairments: Data-Driven Analysis of Recent Investor Activities and Update – Impairments: Data-Driven Analysis.
In this article, we again use Clearwater system data to continue the analysis. We see a potential return to historical volumes in Q3, and consider what that could mean for investors moving into 2021.
Return to Historical Volumes
In H1 2020, investors reacted to COVID-19 by electing to write-down an unusually high number of securities. However, Q3 saw a return to normalcy with only 4,992 write-downs processed. This number is in line with the number processed in Q3 2019 (4,730) and is below the 2019 quarterly average (5,638). Are we out of the woods? Or are we simply in the eye of the storm?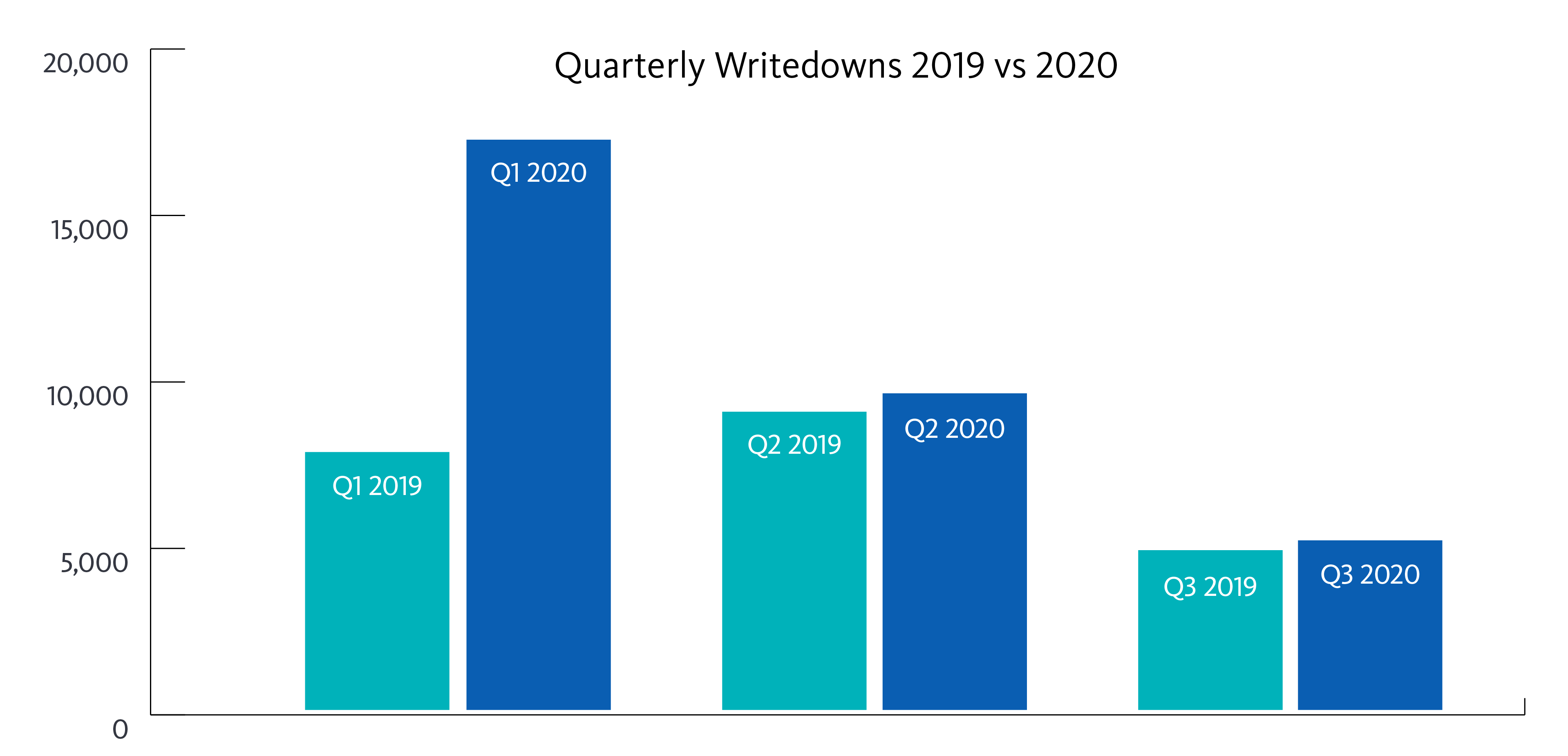 Trend Analysis: Dramatic Decrease for the Most Turbulent Sectors
The largest sectors for write-downs in Q1 and Q2 were consumer, energy, and financials. Each of those has tailed off in Q3 from their Q1 volumes. For commercial mortgages, we finally saw an uptick in the number of write-downs, with most being elected on securities backed by retail holdings. This uptick was not large from a sheer quantity standpoint but does seem to be in-line with our expectations that commercial mortgage write-downs would lag the other sectors.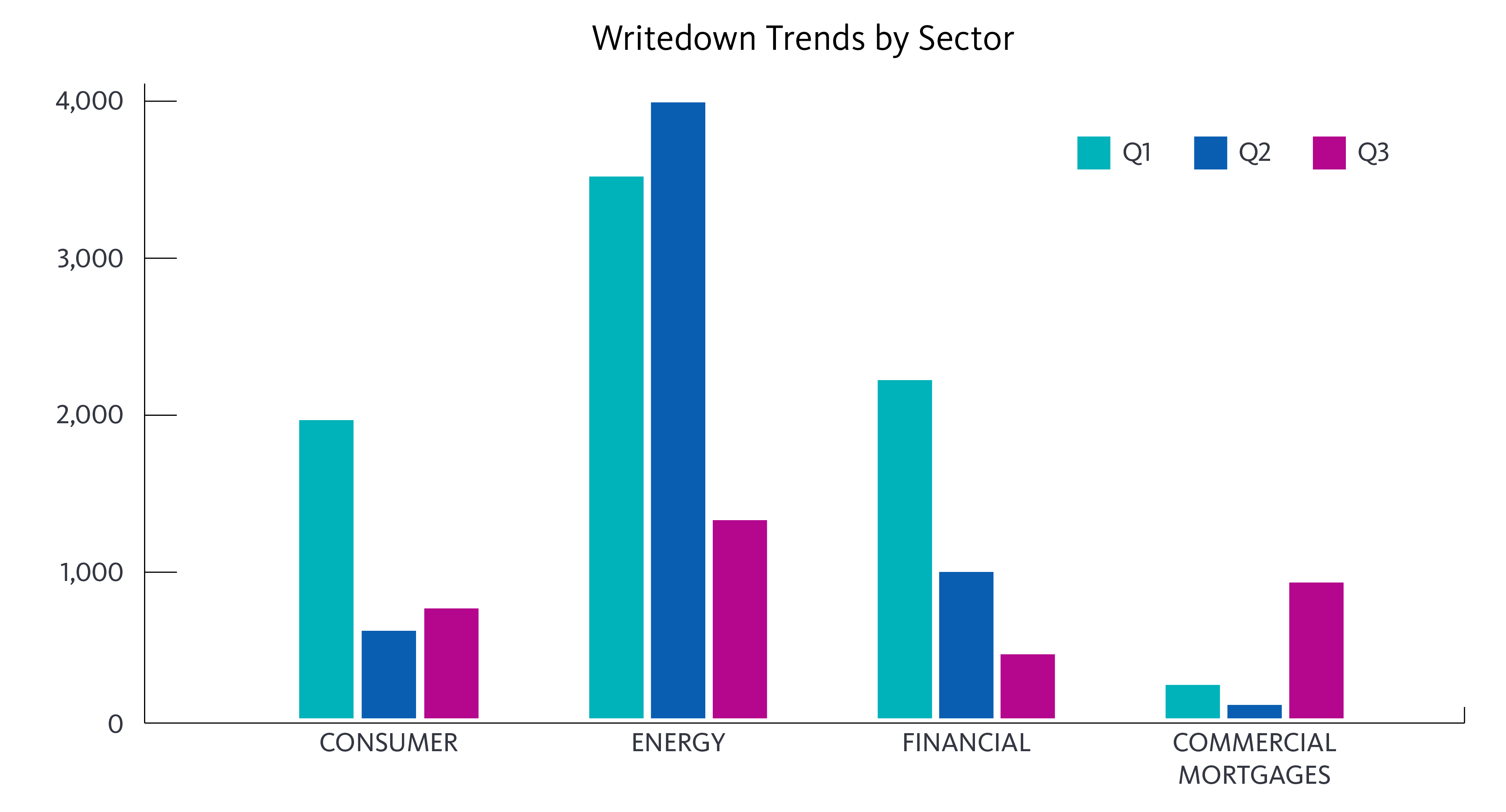 Diving Deeper: Top Issuers Analysis
Narrowing in further on the Q3 data, we found the largest number of write-downs were processed on corporate bonds and equities. The chart below displays the Top 10 issuers selected for write-downs across those two security types. As expected, the largest number of write-downs continues to come in the energy sectors, as companies struggle with the lack of demand for oil.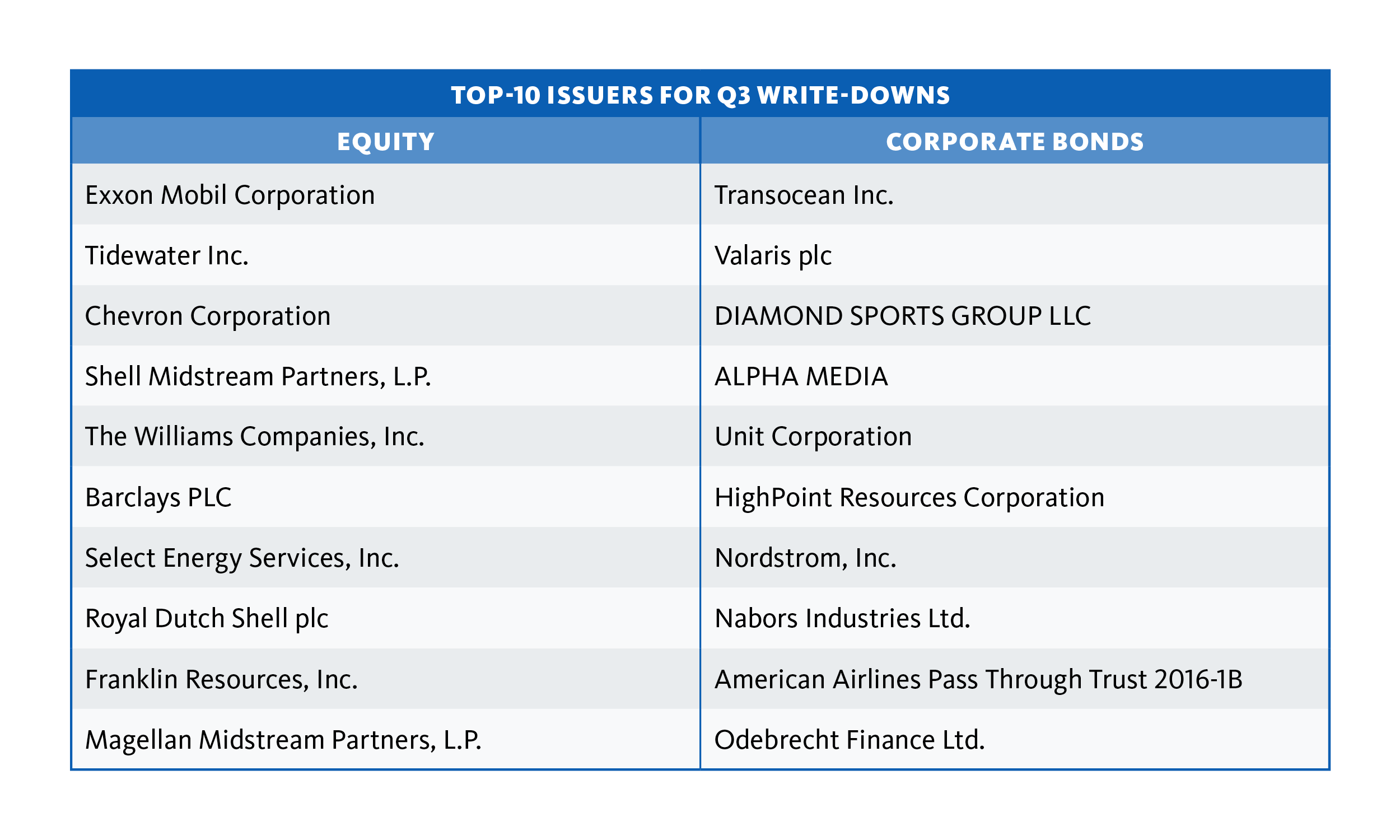 We continue to watch impairment-related data closely and will share the relevant trends and market events we see playing out across our user base. Subscribe to Clear Insights to receive those updates straight to your inbox.
If you would like to learn more about the Clearwater solution, or see a demo of the system, don't hesitate to get in touch. Our solutions consultants work closely with the world's biggest institutional investors to understand their unique operational and technology needs. We would appreciate the opportunity to share what we know.
To learn more about how we are helping companies like yours, contact our Solution Consultants Team.