On-Demand Webinars Goldman Sachs & Clearwater Present:
Insights for Insurers: Navigating Front End Markets to Optimize Short Term Investments
In an era of constant economic transformation, insurers face the critical challenge of navigating uncertain market conditions while maximizing returns on short-term instruments.
If you are seeking innovative strategies to stay ahead of the curve and position your organization for success, then download the recording of the on-demand webinar to watch Clearwater and Goldman Sachs Asset Management host an exclusive session discussing the economic outlook and the U.S. Liquidity Market. You will gain insights into practical and cutting-edge strategies for optimizing yield within the insurance space.
With a focus on short-term instruments such as money market funds, commercial paper, and short-term government securities, this recording is tailored to address the unique challenges faced by insurers in today's dynamic marketplace. Experts explored how instruments ranging from T-Bills to MMFs provide a yield advantage over traditional custodial sweeps, and how various types of MMFs can be effectively incorporated into insurance strategies.
Fill out the form to download the recording to gain a competitive edge, find out about the Clearwater and Goldman Sachs' Mosaic partnership, and unlock the full potential of your investments.
Hear from the following presenters:
Pat O'Callaghan, Global Head-Client Portfolio Management, Liquidity Solutions, Goldman Sachs Asset Management

 

Matt Armas, Global Head of Insurance Asset Management, Goldman Sachs Asset Management

 

Ilda Mesyef, Vice President, Goldman Sachs Asset Management

 

Thomas Murphy, Enterprise Sales Manager, Clearwater Analytics

 

Ivan Matviak, Executive Vice President, Clearwater Analytics (moderator)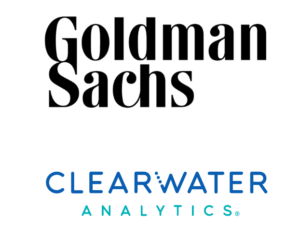 Risk Considerations
You could lose money by investing in a money market fund. An investment in a money market fund is not insured or guaranteed by the Federal Deposit Insurance Corporation or any other government agency. Money market funds are not subject to credit risk, but will have interest rate risk. Institutional money market funds may have floating net asset values, and will fluctuate depending on market conditions. The Fund's sponsor has no legal obligation to provide financial support to a money market fund, and you should not expect that the sponsor will provide financial support to the money market fund at any time.
General Disclosures
Mosaic is made available in the United States by Goldman Sachs & Co. LLC and outside of the United States by Goldman Sachs International, or its local affiliates in accordance with applicable law and regulations. Goldman Sachs International and Goldman Sachs & Co. LLC are the distributors of the Goldman Sachs Funds. Depending upon the jurisdiction in which you are located, transactions in non-Goldman Sachs money market funds are effected by either Goldman Sachs & Co. LLC, a member of FINRA, SIPC and NYSE, or Goldman Sachs International.  For additional information contact your Goldman Sachs representative. Goldman Sachs & Co. LLC, Goldman Sachs International, Goldman Sachs Liquidity Solutions, Goldman Sachs Asset Management, L.P., and the Goldman Sachs funds available through Goldman Sachs Liquidity Solutions and other affiliated entities, are under the common control of the Goldman Sachs Group, Inc.
Goldman Sachs & Co. LLC is a registered U.S. broker-dealer and futures commission merchant, and is subject to regulatory capital requirements including those imposed by the SEC, the U.S. Commodity Futures Trading Commission (CFTC), the Chicago Mercantile Exchange, the Financial Industry Regulatory Authority, Inc. and the National Futures Association.
Economic and market forecasts presented herein reflect a series of assumptions and judgments as of the date of this presentation and are subject to change without notice. These forecasts do not take into account the specific investment objectives, restrictions, tax and financial situation or other needs of any specific client. Actual data will vary and may not be reflected here. These forecasts are subject to high levels of uncertainty that may affect actual performance. Accordingly, these forecasts should be viewed as merely representative of a broad range of possible outcomes. These forecasts are estimated, based on assumptions, and are subject to significant revision and may change materially as economic and market conditions change. Goldman Sachs has no obligation to provide updates or changes to these forecasts. Case studies and examples are for illustrative purposes only.
THIS MATERIAL DOES NOT CONSTITUTE AN OFFER OR SOLICITATION IN ANY JURISDICTION WHERE OR TO ANY PERSON TO WHOM IT WOULD BE UNAUTHORIZED OR UNLAWFUL TO DO SO.
Views and opinions expressed are for informational purposes only and do not constitute a recommendation by Goldman Sachs Asset Management to buy, sell, or hold any security. Views and opinions are current as of July 26th, 2023 and may be subject to change, they should not be construed as investment advice.
This information discusses general market activity, industry or sector trends, or other broad-based economic, market or political conditions and should not be construed as research or investment advice. This material has been prepared by Goldman Sachs Asset Management and is not financial research nor a product of Goldman Sachs Global Investment Research (GIR). It was not prepared in compliance with applicable provisions of law designed to promote the independence of financial analysis and is not subject to a prohibition on trading following the distribution of financial research. The views and opinions expressed may differ from those of Goldman Sachs Global Investment Research or other departments or divisions of Goldman Sachs and its affiliates. Investors are urged to consult with their financial advisors before buying or selling any securities. This information may not be current and Goldman Sachs Asset Management has no obligation to provide any updates or changes.
Any reference to a specific company or security does not constitute a recommendation to buy, sell, hold or directly invest in the company or its securities. It should not be assumed that investment decisions made in the future will be profitable or will equal the performance of the securities discussed in this document.
Although certain information has been obtained from sources believed to be reliable, we do not guarantee its accuracy, completeness or fairness.  We have relied upon and assumed without independent verification, the accuracy and completeness of all information available from public sources.
This material is provided for informational purposes only and should not be construed as investment advice or an offer or solicitation to buy or sell securities. This material is not intended to be used as a general guide to investing, or as a source of any specific investment recommendations, and makes no implied or express recommendations concerning the manner in which any client's account should or would be handled, as appropriate investment strategies depend upon the client's investment objectives.
Confidentiality
No part of this material may, without Goldman Sachs Asset Management's prior written consent, be (i) copied, photocopied or duplicated in any form, by any means, or (ii) distributed to any person that is not an employee, officer, director, or authorized agent of the recipient.
© 2023 Goldman Sachs. All rights reserved.
Date of first use: 26th July 2023
Compliance Code: 328665-OTU